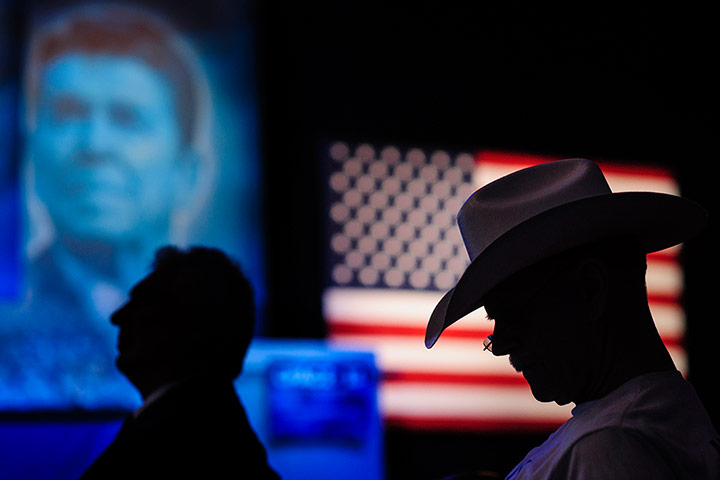 Horror movies are scary because they present a world in which evil triumphs; a world in which there is no hope; a world in which the gates of hell prevail. They present a sick and twisted look at human depravity that fascinates the flesh. They are full of inventions of evil, and the evil they present laughs- laughs at justice, laughs at consequences, laughs at God.
Yet Scripture contains the most terrifying premises imaginable; terrifying, not in a dark and shadowed and sinfully fascinating way, but in an overwhelming and inescapable and terribly beautiful way. While the horrors of sin invite the viewer to fantasize and indulge dark curiosities, the terrors of God send shudders down the spine and invite those who meditate upon them to fall on their knees.
The terrors of sin invite the roaches to explore the kitchen floor. The terrors of God send them scattering.
These are the horror films that Christians should make. These films would not explore the twisted paths of a sinful psyche and offer less inventive minds the chance to wander down the paths of death; they would explore the straight paths of God's holy Justice, and expose in blinding light how twisted the paths of our fallen minds truly are. They would cause terror not at the perversion of the evils but at the perfection of the inescapable justice of God.
These films would explore what it means to suppress the truth for so long that someone actually begins to live a lie, a life of self-inflicted blindness stemming from rebellion against the One True God. They would proclaim the chilling judgments of a righteous God on a rebellious nation, like the prophets did of old. They would show that though the wicked laugh and mock at God's eternal flames, those flames are waiting hungrily and burning all the same. They would show that the One True God is a God Who is to be feared.
In American culture the God of Scripture is not feared; instead, we fear an idol of our own making, carved in the image of tolerance, whose sacrifices are a pinch of apathy, a pound of groveling, and any lingering traces of manhood buried deep within your bones. But this leaves the question- has the American church been presenting God as He presents Himself? Or have we been presenting a god who is sitting up in heaven trying his very best to fight against the evil that is overpowering his forces here in America; a god who is begging, pleading with his enemies to just believe in him so he can bless them?
We serve a God Who laughs. Who holds His enemies in holy and unflinching derision. We serve a God Who is a loving, merciful, forgiving Father- but who is a terrifying, unflinching, fearless adversary.
"He Who sits in the heavens laughs; the Lord scoffs at them." (Ps. 2:4)
"I will even laugh at your calamity; I will mock when your dread comes." (Pr. 1:26)
Romans 1 details the descent into madness- a descent which begins with refusing to acknowledge God, and ends with the judgment of God poured out like flooding rains on those who have turned against Him; a deep and chilling blindness so overpowering that the most simple and obvious truths are lost in the confusion like a baseball in a field of corn.
Scripture tells us that everyone knows; the Image of God is so indelibly carved into their being, so inescapably shimmering out of the world around them, that they are without excuse. If Woody would just look at his boot, he would know that he belongs to Andy.
But they've shoved their boot into a sock and have lived that way for so long that they have genuinely begun to believe that there is neither boot nor Andy at all; they've told themselves their own lie for so long that they have actually started to believe it; they have looked at the world through upside-down glasses for so long that their brain is flipping their eyesight to match.
And He Who sits in the heavens laughs. He laughs as the heathen nations rage, like ants picketing on the sizzling pavement outside the air-conditioned office of the exterminator, like pots starting a Facebook campaign against the rights of the potter (who happens also to own the internet... and a sledgehammer). He laughs as America pretends with all her might that magnets don't
necessarily
have to go N+S... if that N wants to self-identify as an S, who are we to say otherwise? He laughs as we hide from His Truth like a child under the blanket at bedtime, as we run from Reality only to be ambushed by her child, Consequence. He laughs as the brightest minds in the scientific community conclude that the universe is a cosmic accident and claim primordial slime as their heritage. He laughs as the prophets of Babylon dance and prance in a frenzy to a mirror-idol, cutting themselves and shouting louder, louder, louder in hopes that maybe the state will send fire from heaven and consume all the intolerant things they have heaped upon her altar.
And fire will come, but it will not be from the one they worship.
This is the God that Scripture presents; the God who melts mountains with the breath of His nostrils; the God at Whose voice the oceans flee. The scariest villains, both in our little fictions and in God's great reality, are the ones who commit their crimes and laugh. They have no fear; they have no remorse; they cackle at the pain they cause others and mock the sword of justice.
But God is the One Who wields that sword. And He laughs at them. He laughs at their pride, their bravado, their cute little insults which make them feel so big and strong. He is not
trying
to defeat them. He
is
defeating them- and that through their own perceived victories. He is defeating them with the ease of a giant wrestling an impertinent child, with the completely unconcerned dominance of a cat toying with a cricket.
He laughs, and knows that the ones who mock at the cup of His wrath will mock no more once they have tasted thereof.
And that is sweet solace for the righteous.
And that is utter terror for the wicked.
This is the God of the Bible. This is a Christianity with teeth. This is the God that the world must see.
What is the beginning of the descent to madness in Romans 1? A refusal to acknowledge God. What, therefore, is the beginning of revival? The submissive acknowledgement of God. The fear of the Lord is the beginning of wisdom, but how can we expect for wisdom to begin if we never present the truth about the God Who is to be feared? God is in the business of bringing glory to His worthy Name. How can we expect to see true reformation based only on moralistic platitudes, "traditional values," and pleas to acknowledge an ooey-gooey ambiguigod.
The God of the Bible does not share His glory.
And this is the God that we must present to the world.
How can we expect God's blessing if we will not give Him the glory for it? If we want to proclaim the pantheistic and tolerant elephant-shaped god of our own making, then we should only expect help from that god. And since that is no god at all, the rescue we are waiting for will be rather lackluster.
The Kingdom of God does not depend on America. America may fall, and God will not be searching desperately for a plan B. America doesn't need morality. She doesn't need traditional values. She doesn't need conservative fiscal policy.
She needs to fear God.
She needs to kiss the Son. (Ps. 2)
America needs Jesus. Just like every other nation on the earth.
And as Christians, our first duty is to proclaim Him as He says He is.
We serve a God Who laughs. It is time for His people to laugh too- not in pride in ourselves, not in self-exalting superiority, but in humble and childlike submission to the irrefutable Truth of God. In dealing with individuals, we should show Christ-like mercy, compassion, humility- for we, too, are sinners whose only claim is the Grace of God. But as followers of Jesus, we know the Truth; we have nothing to fear from the prophets of error. So in looking at the insanity around us, we should stand on the Word of God, proclaim it with boldness, and laugh fearlessly.
Because when you're looking through the eyes of reality, this stuff is pretty funny.
#KissTheSon
#FillTheEarth