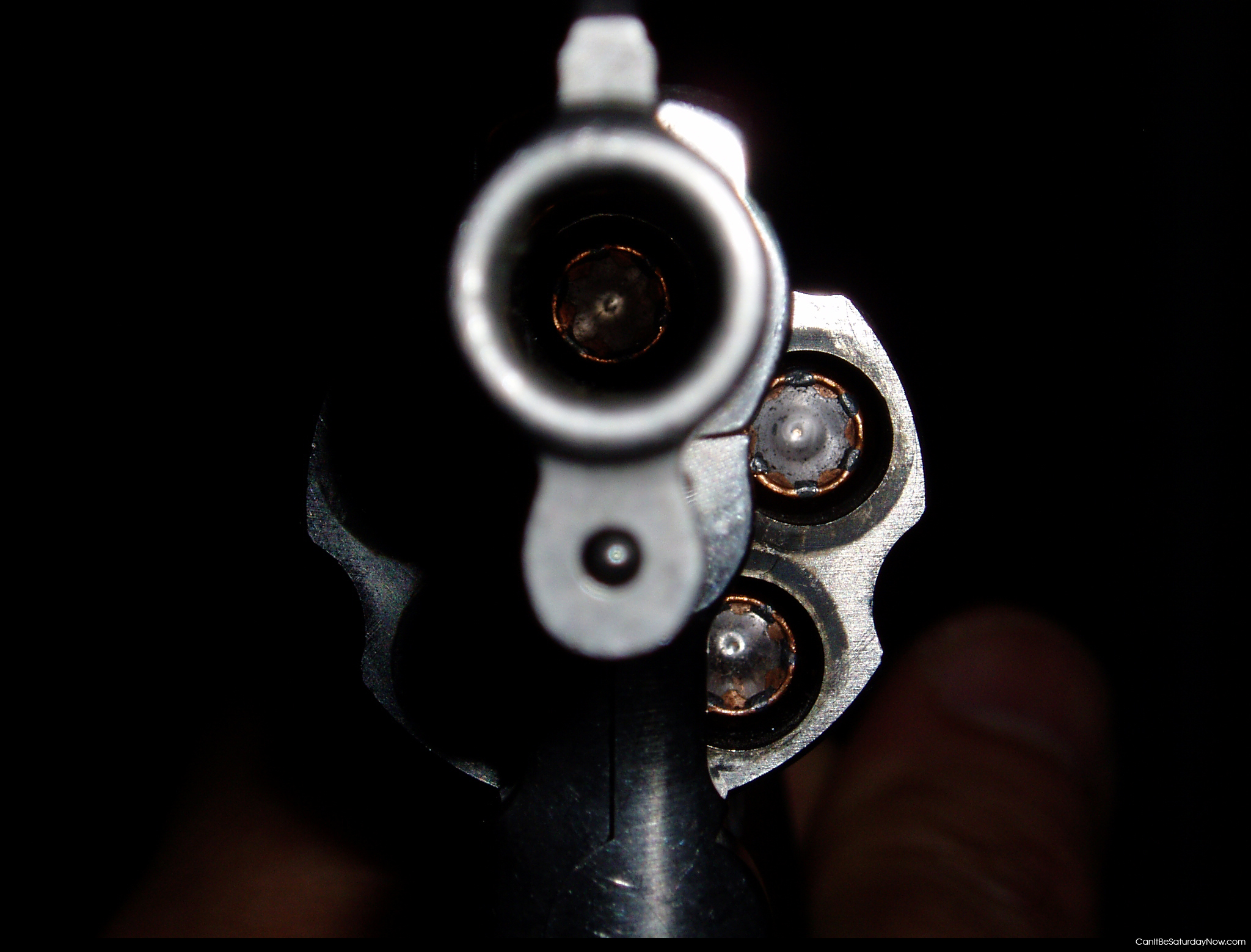 Thoughts on Christians and violence.

I've recently been involved in multiple discussions about what Scripture has to say about Christians and violence. It is a touchy and very important topic.
I'm going to break this into two parts. First, I'm going to talk about why total pacifism is (I believe) an untenable position. Then, I'm going to discuss the Scriptural definition and basis for Christian violence.
Turn on your battle music, ladies and gentlemen.
Shouldn't We Just Love Everybody?
The argument that we should be non-confrontational can have much appeal, and appear to be Scriptural on its face.
First problem: if played out consistently, it's absurd.
Prepare yourself for some violent satire. *innocent smile*
(While I am being satirical here, it is all in good humor- please don't take offense. It's spoken with a smile. :-)
If Christians should be pacifistic, then no Christian should be a police officer, and all legal systems should be abolished. Turning the other cheek, you know.
The bad guys should never be resisted. Mugger? Thief? Murderer? Rapist? Just make sure you pick a Christian for your target, because if they aren't a Christian they might resist you.
Hey, at least I can fling a gospel tract at the guy who busted down my door before he shoots me.
Make that gently hand the gospel tract to him- flinging it might hurt his feelings.
If I was target shooting at the range, and, walking home, saw a psychotic villain massacring a schoolyard full of children, I should set my favorite pistol down and pull out my cellphone. After all, when seconds count, the police are only minutes away. Then, I should perhaps run into the schoolyard and try to reason with the fellow. Maybe I could do some kind of martial art on him which wouldn't actually hurt him- though the fact that he has a gun makes that idea slightly less attractive.
How horrifying does the example have to get before we admit, "OK, I guess I'd have to do something then?"
Buy a Sword
Now I'm going to use The Sword to see whether we should use the sword.
I have six points to this part of my article:
Assumption
Model

Command
New Covenant
A Pragmatic Presupposition
On Martyrdom and Self-Defense

Assumption
In Proverb 6:16, The LORD states that He hates hands that shed innocent blood. Interestingly, He didn't say that He hates hands that shed blood, as such.
Scripture assumes the use of violence (if necessary) to protect the innocent from evil.
"If the thief is caught while breaking in and is struck so that he dies, there will be no bloodguiltiness on his account.
But
if the sun has risen on him, there will be bloodguiltiness on his account. He shall surely make restitution; if he owns nothing, then he shall be sold for his theft." (Ex. 22:2+3)
"When he found her in the field, the engaged girl cried out, but there was no one to save her." (Deut. 22:27)
Scripture doesn't specify when exactly we should pull out the Glock or bust out a 3-punch-combo. But does It really have to?
In all honesty, what kind of man would I be if I saw someone being attacked and I didn't rush to their aid?
I'm not talking about two drunks getting into a fight into which I throw myself and "[grab] a dog by the ears."
I'm talking about a woman being mugged or a black guy getting mistreated by a couple of white guys in the men's room or an old man being accosted by a robber.
God made me a man. He gave me strength and a love for things of war. Not things of death- things of victory and justice. Rescuing the damsel in distress. Slaying the dragon- or the gangster- to save the innocent.
I'm not defending a sick fascination with violence- a love of pain and misery- a desire to hurt and kill.
I
am
defending a love of justice, and a commitment to protect the innocent. I see it modeled and assumed in Scripture- and I see it written on the heart of every little boy who loves to play soldier.
I'm also not saying that lethal force should be the first resort. Absolutely not.
I am saying that the innocent should be defended using whatever force necessary. Perhaps it can be simple psychological warfare. Maybe a swift chop to the temple will stun the assailant without permanent damage. Or maybe his death is necessary. Really, though, it's not about me wanting to harm him. It's about me wanting to protect her (whoever the innocent person is). So long as he insists on harming her, he'll have to go through me, and he's in danger. The moment he stops trying to do evil, he stops being in danger. It's his choice. I'm just defending.
Model
Throughout Scripture appropriate use of violence is not only portrayed but is commended. The example of Phinehas, who slew two people who were defiling God's tabernacle, comes to mind. What did God have to say about Phinehas' taking of two human lives?
"
Behold, I give him My
covenant of peace; and it shall be for him and his
descendants after him, a covenant of a
perpetual priesthood, because he was jealous for his God and made atonement for the sons of Israel." (Num. 25:13)
Command
"When I saw
their fear
, I rose and spoke to the nobles, the officials and the rest of the people: '
Do not be afraid of them; remember the Lord who is great and awesome, and
fight for your brothers, your sons, your daughters, your wives and your houses.'" (Neh. 4:14)
Not only is violence in defense of the innocent, specifically in defense of the family, assumed throughout the Old Testament, it is also commanded.
We see that also reinforced in the New Testament in that Christ gave up His life for His bride!
"Husbands, love your wives, just as Christ also loved the church and gave Himself up for her..." (Eph. 5:25)
New Covenant
Now comes the real issue. Oftentimes today the New Testament is not looked at in context of the Old Testament- as the fulfillment thereof. Rather it is seen as something vastly different which frees us from the bondage of the Old Testament.
And indeed we are free from the Old Covenant, praise God! However, those who wrote the New Testament were thoroughly saturated in the Old. That set their worldview. They also reaffirmed the value of the Old Testament. (2 Tim. 3:16)
Yes, we are indeed free from the Old Covenant. The sacrificial and ceremonial laws were fulfilled in Christ. We aren't Jews, and don't need to be- Christ is our High Priest. Praise God!
If we take that (precious!) truth and use it to nullify all of the Old Testament, we not only cause ourselves much pain and confusion but we specifically disobey both the models and the commands that we are given in the New Testament.
To say that anything stated in the Old Testament must be re-stated in the New Testament or it is invalid is simply unScriptural.
That said, if Christ overturns something in the New Testament, He has every right to do so, and it is incumbent upon us to submit to that.
So what does Jesus say about violence? I'm going to look at some Scriptures that might be brought up specifically for this discussion, and then talk about how I interpret that. If you question my interpretation, please feel free to tell me so in the comments! However, please remember the Old Testament context in which Christ spoke, and interpret these passages in light of the whole context of Scripture.
"

Blessed are the peacemakers, for they shall be called sons of God." (Matt. 5:9)
I can be a peacemaker and still stop the guy who comes in to attack my family. Actually, I'm probably more of a peacemaker by doing so. (Gotta say, I think the Colt "Peacemaker" has the best name for a gun that I've ever heard.)
"You have heard that it was said, 'A

N EYE FOR AN EYE

,

AND A TOOTH FOR A TOOTH

.' But I say to you, do not resist an evil person; but whoever slaps you on your right cheek, turn the other to him also. If anyone wants to sue you and take your shirt, let him have your coat also. Whoever forces you to go one mile, go with him two. Give to him who asks of you, and do not turn away from him who wants to borrow from you." (Matt. 5:38-42)
Take insults like a man. I firmly believe that the culture of
dueling to the death
over insults violates this principle. If somebody slaps you or makes a snide remark, take it with grace and love him back. It's not something to kill over. Be generous of your stuff and your time- if the guy is holding you up for the $20 in your wallet, dig out the loose change for him too. "Do not take your own revenge, beloved, but leave room for the wrath of God."
"...love your enemies and pray for those who persecute you..." (Matt. 5:44)
Pretty self-explanatory, but please, let's let God define love, instead of the soupy, mushy, "tolerant" culture of today.
"Then Jesus said to him, 'Put your sword back into its place; for all those who take up the sword shall perish by the sword.'" (Matt. 26:52)
I love the argument that my good friend Casey made
over at his blog
for this passage. Basically, if you make a lifestyle of swordsmanship, you're going to wind up dying by the sword, most likely.
There's a world of context that we must see these statements through. Jesus is set on fulfilling what His Father has commanded. He's not here to resist- He knows not only that the soldiers are here to take Him, but that His Father wants Him to go with them.
"

When I sent you out without money belt and bag and sandals, you did not lack anything, did you?" They said, "No, nothing." And He said to them, "But now, whoever has a money belt is to take it along, likewise also a bag, and whoever has no sword is to sell his coat and buy one." (Luke 22:35+36)
Here Jesus tells the disciples to buy a sword. We see the juxtaposition of his previous miraculous care for his disciples with a transition into a more natural method of provision and survival- take some money and a sword.

So one has to ask- if Jesus meant to say never use violence, why in the world would He tell His disciples to sell their cloaks and buy a sword?

You may say "Jesus never used violence." (He did, actually, in the Temple.)

But Jesus didn't have a place to lay His head, either.

We can't forget that when Christ walked the earth a whole lot was happening. Many things throughout that period in Church history were not normative.



A Pragmatic Presupposition



The argument has been made that I know where I'm going when I die. I know where my wife is going, and my kids (by God's Grace). Odds are, this poor criminal is going to go to hell if I shoot him!

This is a thoroughly pragmatic and humanistic argument based on a wildly unScriptural thought process.

It is for us to do what God has called us to do. It is for God to worry about the consequences.

If I get to witness to this man- to wage psychological warfare- praise God! So be it. I'm not looking for a fight, and I'd rather see this man come to repentance.

But I have a feeling that if he kicks down my door and pulls a gun he isn't stopping by for a friendly chat over a cup of eggnog.

God calls me to love my wife- to love my children- and to love my neighbor. What kind of sick logic turns these commands into a call to give my family over to the criminal to be abused and slaughtered? Who am I called to love more- my wife, my child, or this murderer?

And am I really loving my neighbor(s) if I allow this person to get away with this evil deed?

The effects on society are obvious. When the good guys have the guns, the bad guys are scared to commit crime. When the good guys are disarmed, the bad guys have nothing to fear. If I let this wicked man work his will and leave, how many other homes and families is he now able to destroy?

It is

because

I love that I will use force on this criminal. Because I love my wife, my kids, my God, my country, I will not allow this evil man to pillage and plunder freely.

It's not a lack of love that makes me pull the trigger. It's the

presence

of love.

We talk a lot about how we should love the perpetrator- whatever happened to loving the victim?



On Martyrdom and Self-Defense



Martyrdom is a glorious thing. Many early Christians were brutally murdered for their faith, and Scripture repeatedly paints for us a glorious picture of what an honor it is to endure hardship and even death for the cause of Christ.

"

...others were tortured, not accepting their release, so that they might obtain a better resurrection..." (Heb. 11:35)

"...they went on their way from the presence of the Council, rejoicing that they had been considered worthy to suffer shame for His name." (Acts 5:41)
There is, however, a vast difference between being martyred and being mugged.
If I am to suffer for the cause of Christ, praise God! May He strengthen me that I may suffer and die well.
But if a man attacks me in an alley, I will defend myself, just as I would defend my home- Ex. 22:2, again.
(EDIT - as a commenter pointed out, I don't mean to say somehow martyrdom isn't to be resisted. I believe that the same Biblical principles apply. This section on martyrdom was simply to say that I do believe that if resistance is no longer an option there is much glory to be found in the choice, by God's Grace, to die well and without a struggle. What a testimony.)
By doing so, I protect myself from death, my family from the loss of a brother and son, and the next person that would have been attacked from death as well.
If I'm married, I'm then protecting my family from the loss of their protector and provider.
Do you see how Biblical use of violence is
protective
? It's not about taking lives- it's about
saving
them.
It is worth stating again that lethal force isn't the first resort. It has been rightly said that we should "shoot to stop, not to kill." Sometimes death may result in the process of stopping them- sometimes not. But because of what I love, because of what I value, I will use force in defense of the innocent.
And if it comes to it, I won't hesitate to pull the trigger.